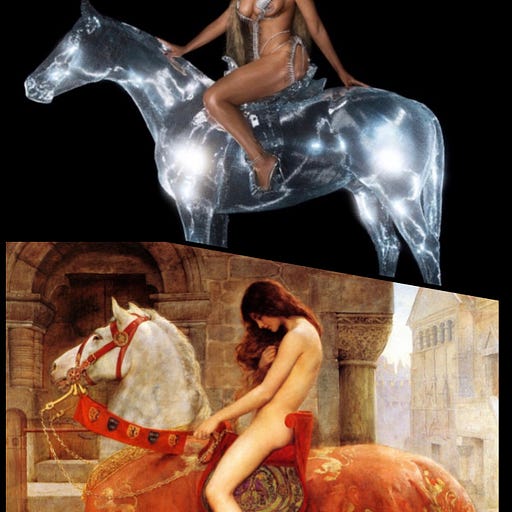 Jul 3, 2022 • 9M
Beyoncé's Soulful Rebuke
Her 'Renaissance' evokes the Divine Feminine and issues a defiant but uplifting rebuke to oppression as a right-wing Supreme Court tightens its grip.
Literary fiction and essays by an award-winning writer from the Deep South focusing on the current zeitgeist and the news that stays news.
In case you haven't heard, Beyonce is in the pro cess of releasing a new album. It's called Renaissance, and it's already making waves. Not only does the cover evoke a feminine archetype, the music we've heard so far is a defiant but ultimately uplifting rebuke of oppression as a right-wing Supreme Court tightens its grip. On today's Jazprose Diaries—"You Won't Break My Soul."
In the 13th century, about 200 years after her death, Lady Godiva of Coventry, England, re-emerged as the stuff of legend. There is nothing in the historical record about her riding naked through the town on horseback. But today that story is synonymous with her name. Somehow a woman who died around the time of the Norman Conquest (1066) has ridden into legend, mythology, and the Collective Unconscious itself.
A few days ago, this image returned to public awareness but with a twist. This time the (near) naked lady on horseback was none other than Beyonce Knowles-Carter, aka Queen B.
This isn't just coincidence
According to the legend, Lady Godiva's husband had levied an unfair tax on the people, which created an impossible burden for them. When she asked him to remove the tax, he said he would only do so if she agreed to ride naked on horseback through the middle of town.
As is often the case with men of power, he underestimated her. She called his bluff and rode not into history but into the human psyche. As with the legend of King Arthur, her story has risen above the events of her actual life.
Why did this happen?
Proposition: The legend of Lady Godiva arose during a time of great suffering and oppression. During the 13th century, taxation was routinely burdensome, leading to eventual uprisings like the Peasant's Revolt. From the Black Death to the Witch Hunts to the Inquisition, the 13th century was the epitome of Life's a bitch; then you die.
At its most fundamental mythological level, the Godiva story is a manifestation of the Feminine Principle as a bringer of comfort, consolation, and relief. It's not unlike the appearance of the Virgin Mary at Fatima, which occurred in 1917 near the end of World War I, and at Lourdes in 1858, during the European economic crisis caused by the American Panic of 1857. Nor is it very different from the lasting legacy of Princess Diana, whose reputation for service and loving-kindness seems to have transcended the turmoil of her actual life.
Beyoncé has claimed no such significance for her new album, whose just-released track is called "Break My Soul."
My intention was to create a safe place, a place without judgment, a place to be free of perfectionism and overthinking. A place to scream, release, feel freedom. It was a beautiful journey of exploration.
This statement is a testament to her authenticity as an artist
It's a perfect description of the artist as a conduit through which something greater than herself can flow. Even though her immediate focus was personal, Beyoncé has tapped into a universal theme. Like other manifestations of the Feminine Principle, her Renaissance album is a spontaneous eruption of that releasing, renewing energy at a time when it's needed most.
She dropped the new album cover on the same day Ketanji Brown Jackson was sworn in as the first Black woman to become a Justice of the Supreme Court. Although Justice Jackson will undoubtedly become part of the court's liberal minority, her presence on the high court is itself a measure of deliverance.
Both things occurred as a conservative majority on the Court, representing a minority of the US population, handed down a controversial religious-themed ruling regarding school prayer and expanded gun rights.
The same court limited the government's ability to control climate change. And oh yeah—it also overturned Roe v. Wade, which took away a right that had been in place for two-and-a-half generations, the first time the high court has taken such a drastic step.
Not only that, this right-wing Court has agreed to hear a partisan redistricting case before the election, which threatens to limit the ability of state courts to intervene in cases where gerrymandering serves as a form of voter suppression.
If all of this were not enough, Justice Clarence Thomas is calling for the court to strike down rulings on contraception and gay marriage. After the Roe decision, some people on social media were even calling for a reversal of Brown v. Board of Education, which ended discrimination in public schools in 1954. Although none of these things is likely to happen, it's easy to see what a mess we're in.
Everything looks so bad
Turn on the news. Everyday the merchants of fear report new things to be afraid of. You'll never see a female news anchor on any network show up naked on horseback for her job selling bad news to the people. They want you to know how terrible things are. Their personal fortunes depend on making you feel bad.
But the Lady Godiva motif evoked by Beyoncé tells a different story: Don't worry. Everything will be alright.
Here are four reasons for believing that's true
The timing of Beyoncé's
Renaissance
is genius
What better time than July 4th, Independence Day, to think again about the birth of our nation, the principle of equality it was founded on, and the importance of renewal and rebirth.
On this 246th birthday of the United States, perhaps Beyonce is telling us to stop living in fear and to remember the ineffable power of the Feminine Principle. Maybe it's time, like the song says, to embrace a new vibration, find new motivation and a new foundation. Maybe it's time to tell the enemies of our founding values—You won't break my soul.
©2022 Andrew Jazprose Hill
Thanks for reading/listening. Please help me find new readers by hitting the heart-shaped LIKE button, the balloon-shaped COMMENT button, or the comment and SHARE buttons below. Thank you!