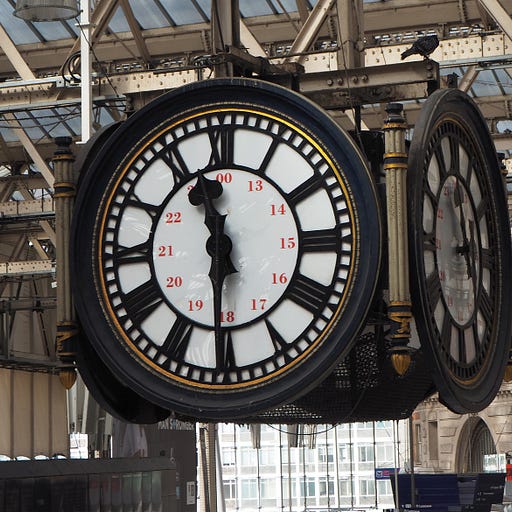 Sep 30, 2021 • 3M
Amanuensis - Part 1 Chapter 4
The Pied Piper
Literary fiction and essays by an award-winning writer from the Deep South focusing on the current zeitgeist and the news that stays news.
Part 1, Chapter 4
The Pied Piper
In sharp contrast to the bright spot of sunshine we'd seen outside Victory Arch, the steamy air inside Waterloo Station that day was dismal.  It smelled of carbon, wet dirt and metal.  A swell of voices roared over the squeal of brakes.  Rail cars being hitched together at the last minute clanged like church bells.   
I took Ian's arm more as a matter of ownership than affection.  But tried not to cling too tightly. What I hoped was that he'd feel my body next to his and be reminded that we were still basically newlyweds.  I wasn't hoping that he'd throw me down on the platform and make passionate love to me in front of God and everyone.  But I did hope he'd apologize before getting on that train.  Because I wasn't going to.
We threaded through a platform crammed with soldiers.  It looked as if entire hospital wards had been dumped there too.  We saw bandaged patients and the white-haired elderly pushed along in wheel chairs.  Two leashed dogs trotted behind their owners, sniffing at the stained concrete for whatever it is animals find interesting there.
Hundreds of flushed-faced boys and girls with scuffed shoes and knees to match chattered away as if heading to a picnic. One of the boys stole a kiss from a nearby girl, a cute little blonde who slapped him handily. Another boy had his wrist tied to a smaller, younger fellow who must have been his brother.  I half expected the lot of them to throw off their school caps at any moment, sending their adult supervisors into fits of insanity.  Each child bore an identifying lapel tag, and I knew without inspecting their cardboard kits that each contained a government-issued gas mask.  Operation Pied Piper, which I'd been reading about in the newspapers, had begun.
Except for the soldiers and a small legion of porters shoving baggage carts along the crowded platform, all were London refugees fleeing Hitler's imminent attack on our homeland.
END OF PART 1, Chapter 4
©2021 Andrew Jazprose Hill
Thanks for reading/listening