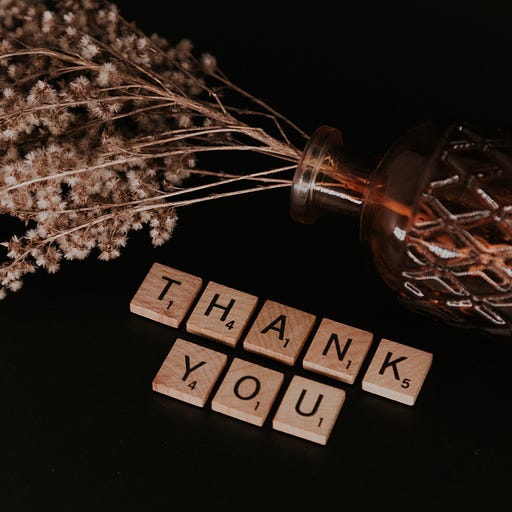 Nov 25, 2021 • 3M
This Thanksgiving, I'm Giving Thanks for You
Literary fiction and essays by an award-winning writer from the Deep South focusing on the current zeitgeist and the news that stays news.
Every Thanksgiving, my family gathers in a circle where we join hands before beginning our holiday meal. Beginning with the eldest and moving clockwise from wherever that person happens to be, we take turns sharing the things we're most grateful for during the past year.
It's a solemn ritual. Most of us spend a few moments reflecting ahead of time on what we're going to say. But it's also fun. Like that time my niece began by saying she's grateful she's not 30 yet. Or when one of the boys said,"I'm grateful for my dog—and oh yes, my girlfriend."
No matter what, we're always aware of where we came from. Of the hard work and the many sacrifices by my parents and grandparents to keep us going as a family. And to get us educated along the way. We know that whatever we've achieved has come about because someone has believed in us, prayed for us, and cared enough to support us emotionally, psychologically, and/or financially.
This year, I'm counting you in that group.
Because you've kept me going. By reading or listening to the Jazprose Diaries and sharing your thoughts about my stories and essays. You've done it with your paid subscription. Sometimes you've done it by buying me a coffee. Or just by remaining on the free subscription list.
Every time you've opened one of my stories, or hit the like button, or shared it with your friends on social media, you've kept me going. By letting me know that you're out there. Willing to give me a chance. To hear me out. To let me tell you a story.
That's why I'm including you when it's my turn to speak in our family's gratitude circle this year.
Thank you for being there for me and with me this year. Wherever you are and whatever you're doing this holiday season, may you be safe, healthy, happy, and blessed. And may your heart be filled with love and with gratitude for your own blessings this year. Be it a dog, a girlfriend, or the joy of being alive—at any age.
Happy Thanksgiving!
©2021 Andrew Jazprose Hill